GoDaddy was founded in the year 1997 and from then it has rapidly grown and now is one of the leading web hosting providers in the industry with more than 13 million customers. It is also one of the largest domain registrars all across the world. It has offices in some of the worlds hottest tech corridors that includes Silicon Valley, Seattle, Hyderabad, Cambridge, Belfast and phoenix too. This hosting providers is one of the best choices for all kind of individuals, web design professionals and small business.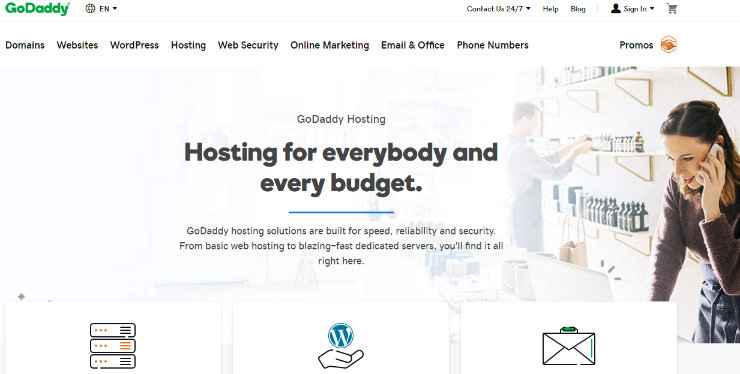 GoDaddy comes with great benefits for their users. So, let's have a look on why GoDaddy is the right choice for you.
Reliability and Performance: GoDaddy promises to provide 99.99% uptime which is said to have a downtime of less than a day in a year. With the recent test, we got to know that it provides an average uptime of around 99.97% which is said to have a downtime of less than three days in a year, which is certainly great. Expecting a 100% uptime may simply not be possible because of various technical issues. But anything close to 100% is surely great.
Customer Support: If, by any chance, you appear to have any problem with your GoDaddy Site then there are various options out there for you to fix. GoDaddy has a knowledge center where you can fix most your common problems. The help site by GoDaddy is well organized which has the common issue categorized that are represented by large icons. GoDaddy also provider a 24×7 phone support and live chat option for all advanced issues you are finding solutions too.
Pricing and Value of Money: There are more of a frequent sales that GoDaddy come across with, which is why they have great options of plans at the lowest price possible. GoDaddy shared hosting plans starts from $2.99 per month if signed for 3 years. Dedicated WordPress hosting starts from $4.99 per month and prices for VPS starts from $19.99 per month. The prices for GoDaddy may be a little pricey than compared to other hosting providers but is definitely worth the money.
Wide Variety of Products: GoDaddy is one of the largest domain name register. It also offers almost every kind of hosting option, also, they offer managed, unmanaged VPS and dedicated servers. If you are in need of any upgrades, they are also easily available and it also has a simple process for purchasing any upgrades you need. There are multiple add ons available on the site like SSL certificates and more. one of the best parts about GoDaddy is the tight integration of all the products.
Is GoDaddy the right choice for you?
Undoubtedly, GoDaddy is a great option for you to pick from. You may have to pay a little extra than compared to other major hosting companies but it is surely worth investing on. This is best for people who don't have budget to look after.
Keep Visiting! Thank You for Visiting!